How do you ensure that a new corporate strategy lands among all employees of your company? And how do you do that during a pandemic, when most of the staff work from home?
Eno, a health insurance company in the east of the country, was in the process of implementing a new business strategy and came to Flatland to visualize it. It turned out to be a perfect match. Drawing helps bring a strategy to life.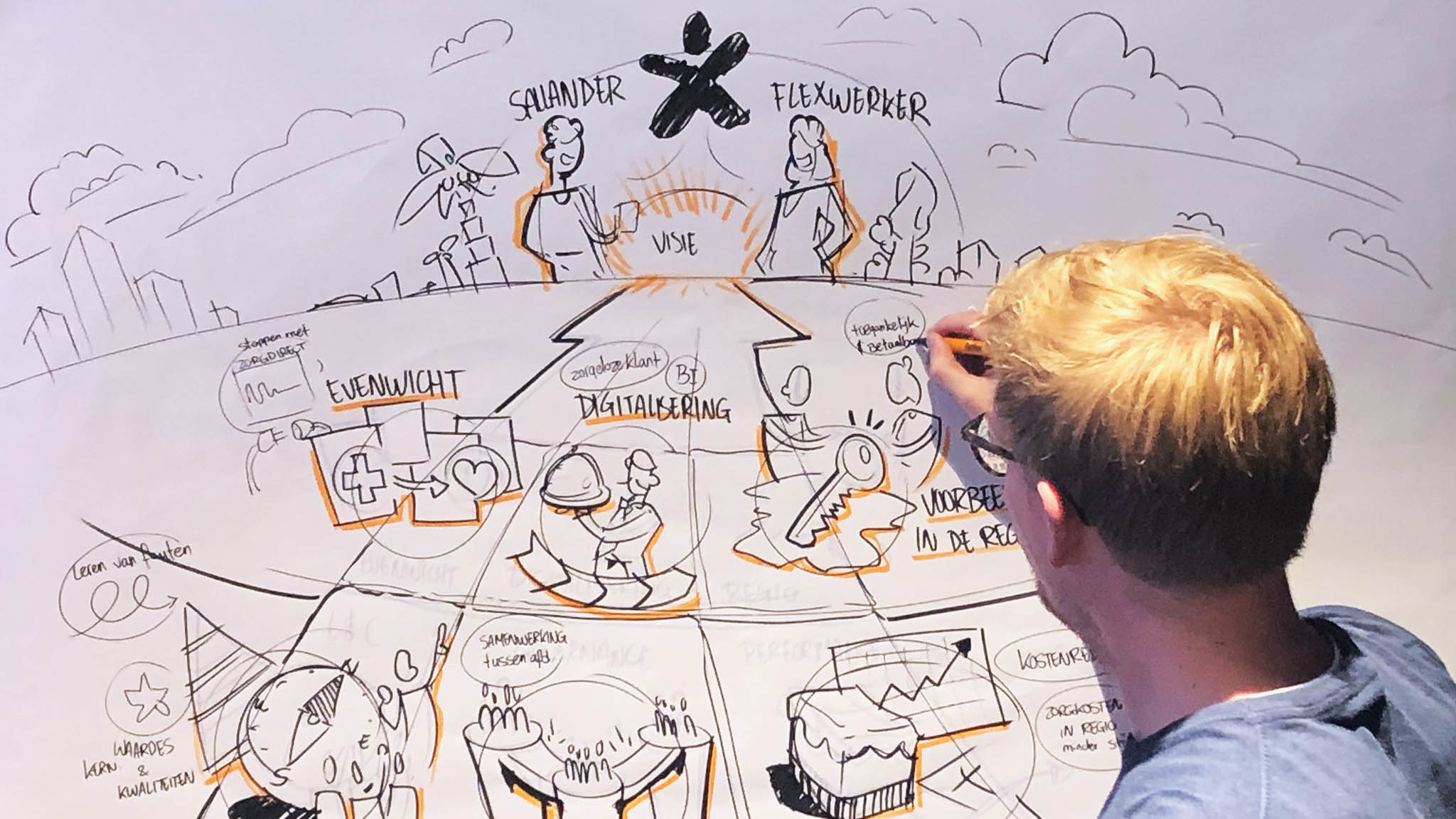 Getting people involved is essential
Eno believes it is very important that all employees work together based on the same values and qualities, which are necessary for the strategy to be successful. Eno therefore wants to include everyone in the organisation. Together with Berenschot, the Board and MT drew up a new strategy, but to explain this business strategy to the entire organization, Eno wanted to develop a visualization.
"We wanted to include our employees in the new strategy in an appealing way. Not only in text but also in images. That is why we looked for a party that could take care of this for us", says Petra Teunis – Chairman of the Board of Directors of Eno. "But we didn't expect how much extra visualization with Flatland would bring us."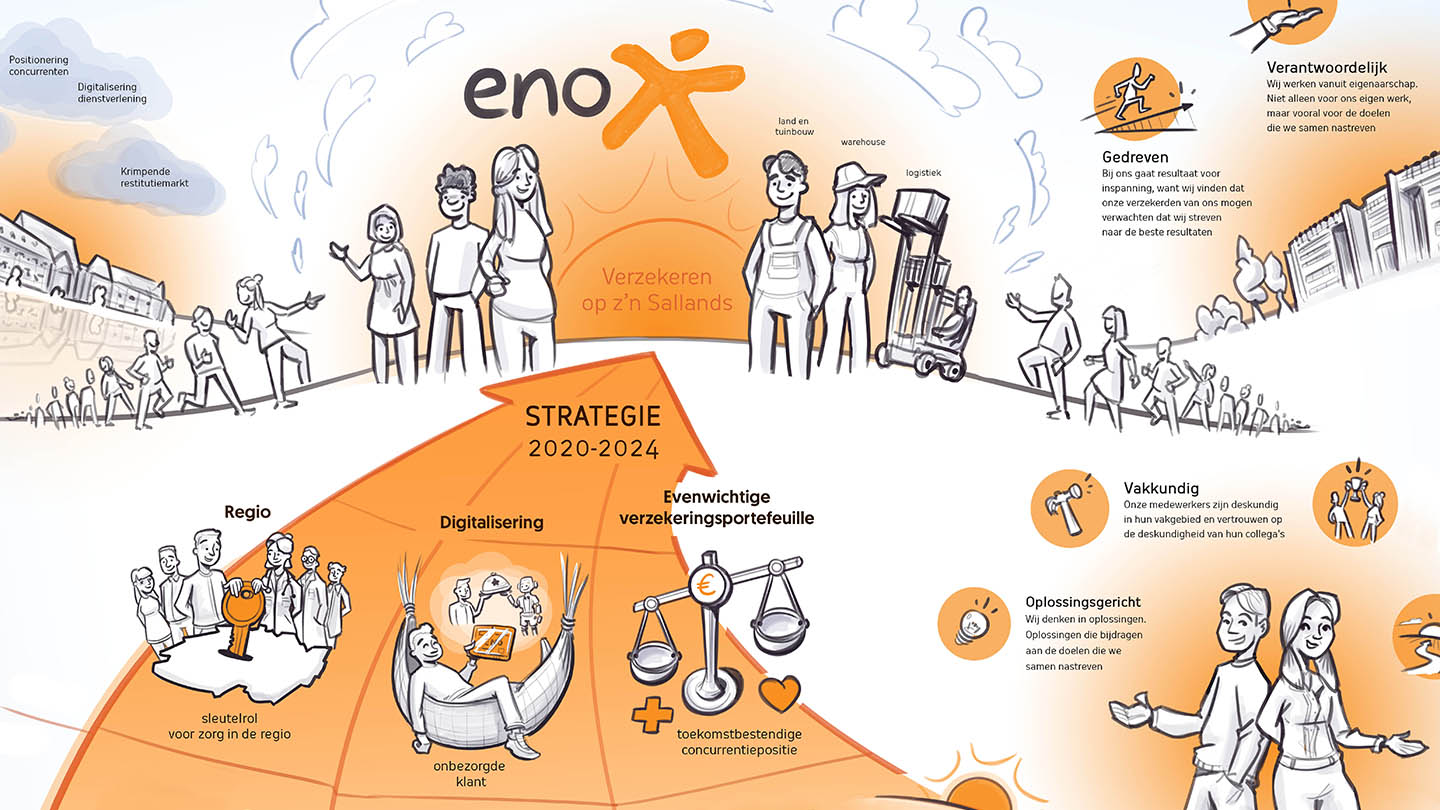 Drawing makes abstract subjects clear and sharper
During the kick-off, Eno's directors and MT were introduced to visual thinking in a playful way. They were challenged by Flatland's visual consultants to draw themselves and discovered that you can make abstract subjects a lot clearer through a drawing. The entire team became enthusiastic and became convinced of the added value of visualization.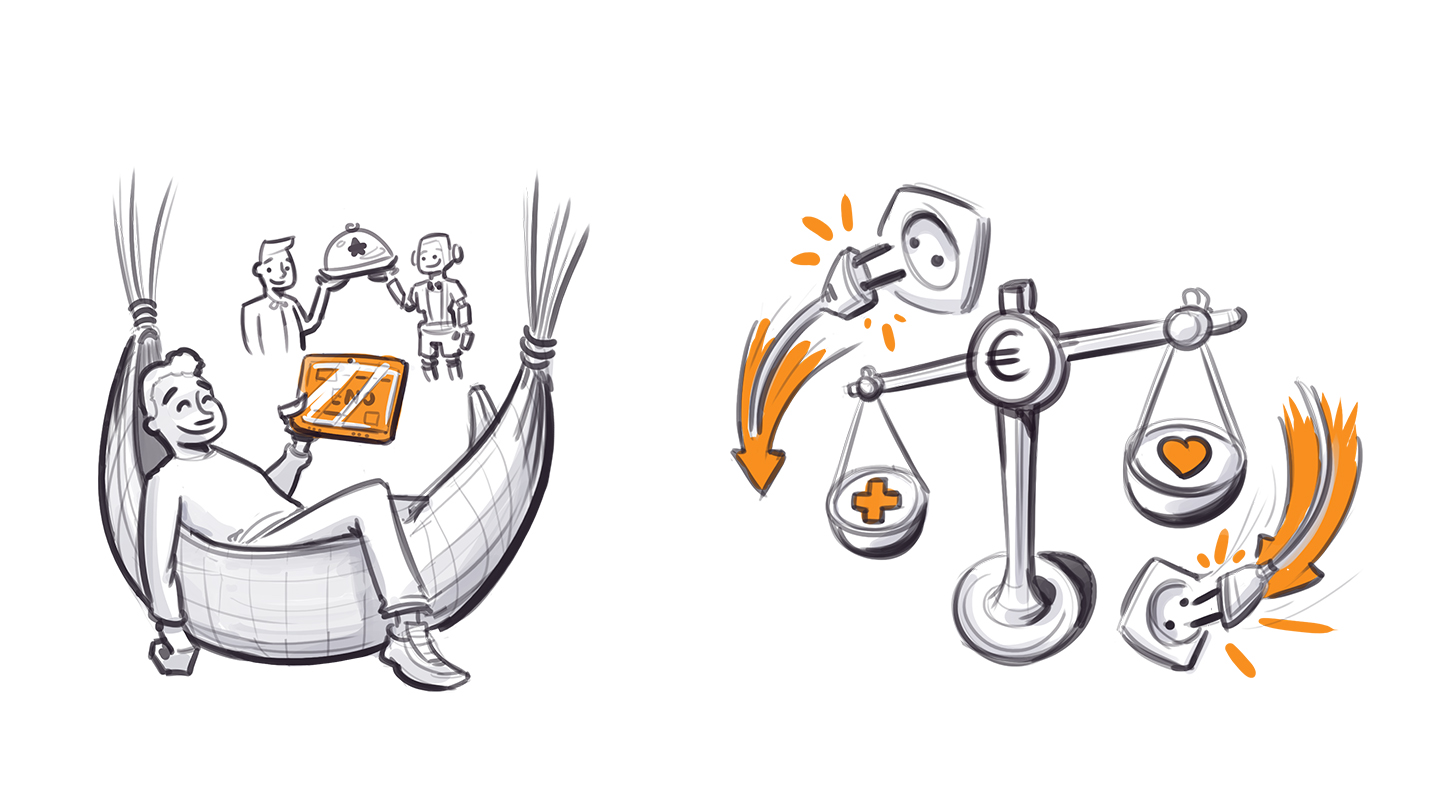 Together, the often broad and abstract themes were captured in drawings and thus clarified and sharpened even more. These discussions became the starting point for the visualizations. Based on these sketches, it appeared that the strategy itself still needed to be refined. In this way a drawing is, as it were, a mirror for everyone's thoughts.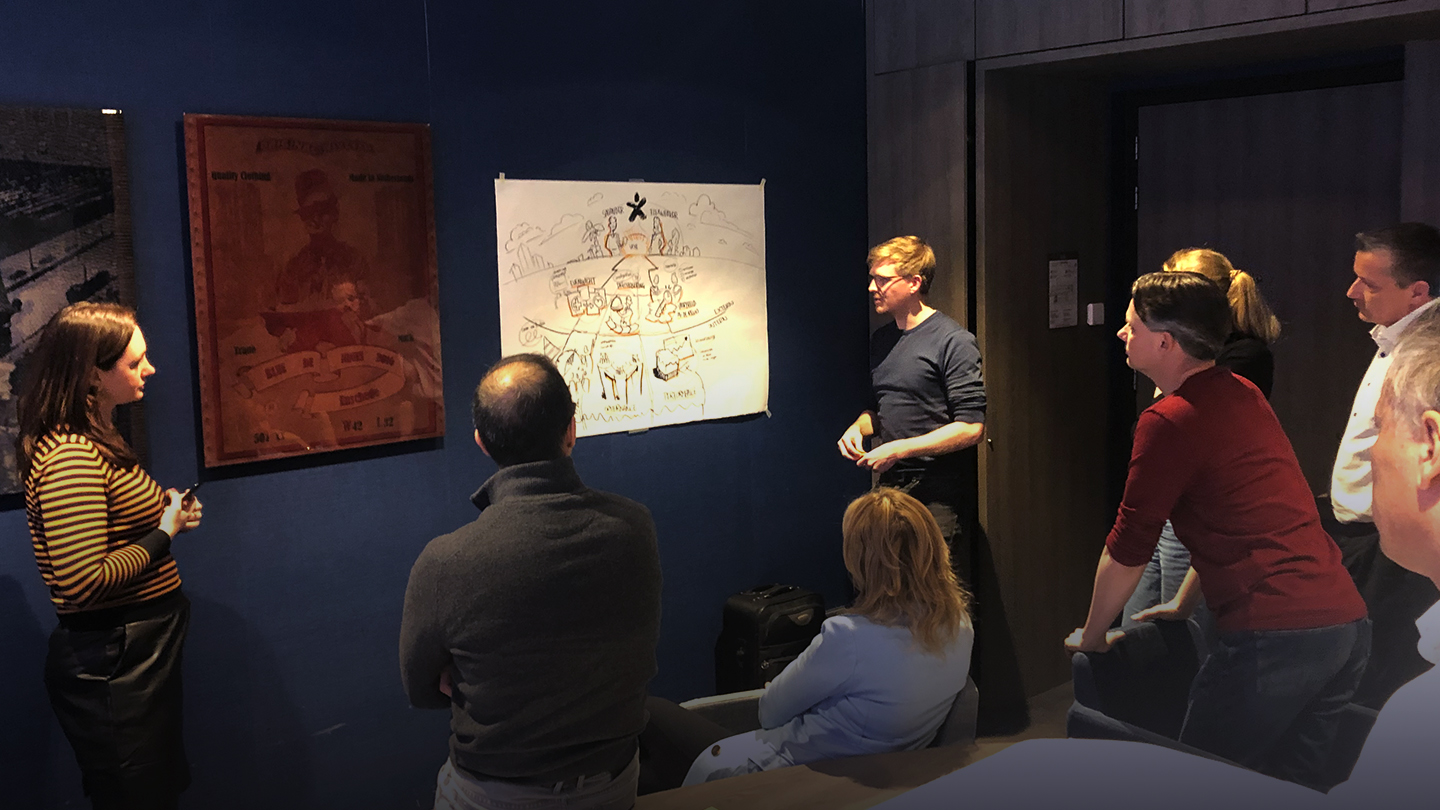 Visualization quickly transformed into animation
The corporate story would be told to the entire organization on the basis of the visualization. But then the covid crisis hit. And the company realized that a large-scale presentation to the staff would no longer take place for the time being. The visual was therefore also converted into an animation film, because with an animation you can tell your story from a distance in an unambiguous and powerful way.
Planned sessions could be used immediately to create the storyboard for the animation. And because Flatland was already involved in the preliminary phase and contributed ideas to the content, there was a lot of prior knowledge and it was possible to switch quickly. After all, Flatland's visual consultants understood very well what it was about and so the story of the animation was hit almost in one go. And it worked surprisingly well!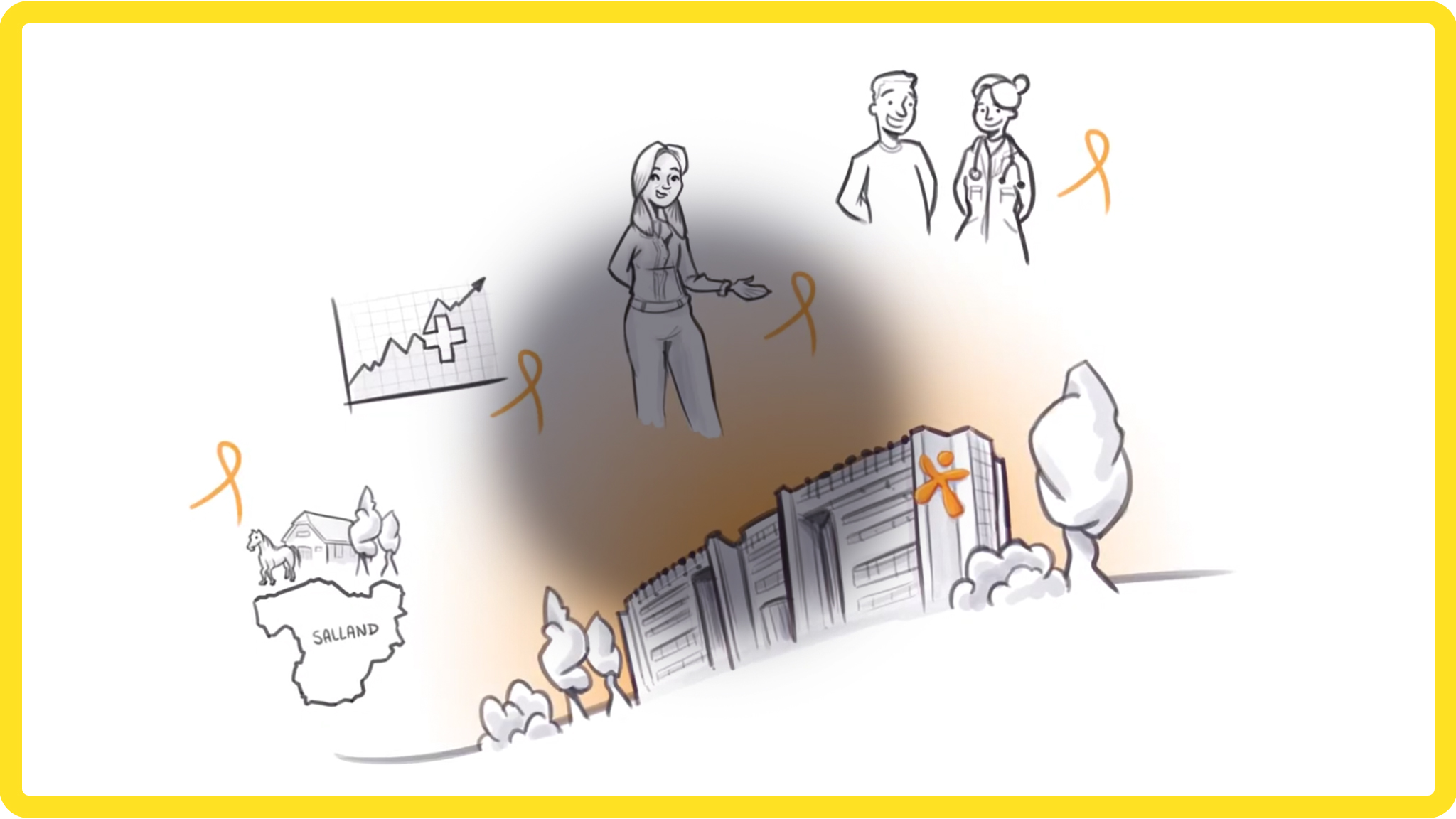 Strategy story in animation and booklet
"This process proves that we don't have to sit together in the same room for that," says Simone Heemskerk, Flatland's visual strategist, enthusiastically. "In fact, because we worked virtually, Eno's board members were even closer than usual to our drawing. This way they could see it even better and react more directly to what we drew!"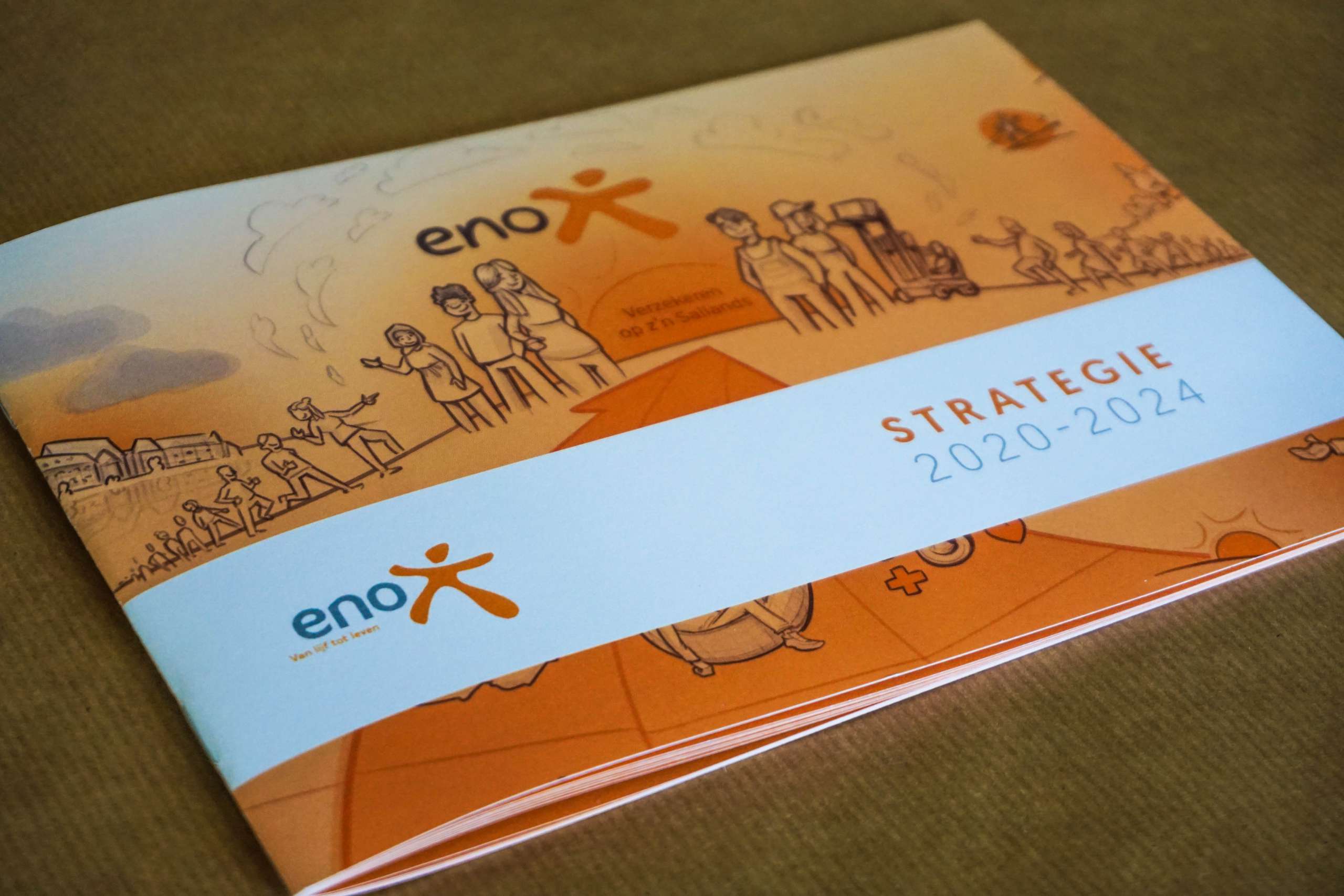 The visualization also became the base of a beautifully designed strategy booklet that was sent to the employees at home in a package, together with the QR code of the animation. The animation tells the strategy story and the drawings from the booklet come to life. At the end of the booklet are questions that an employee can discuss and evaluate with his supervisor in order to make the company strategy part of his daily work.
We wanted to include our employees in the new strategy in an appealing way. But we didn't expect how much extra visualization with Flatland would bring us.

Petra Teunis

CEO of Eno Health Insurances
More than just drawing
Flatland can not only draw, but also think along with directors and consultants. Flatland's Simone is therefore proud of the project: "Even though there were many deadlines and there was a lot of pressure on the project, we as Flatland were able to get along perfectly with the customer. Precisely because we were able to communicate so well with Eno in terms of content and we understood the issue. We have proven to be more than a drawing club, but we can think side-by-side at board level."
Visual Strategist
Michelle Geerlings
Also working on strategy and activation? Visualizing clarifies complex subjects and gets people moving.
Email Michelle