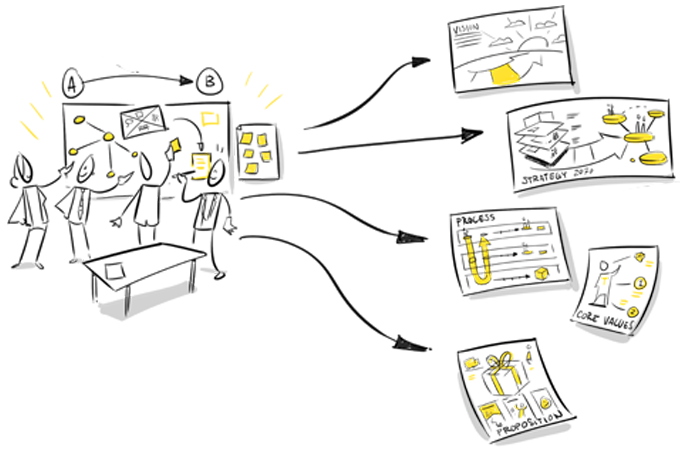 Explore our main approaches below
How can we help you?
By drawing and working visually we empower teams to share their ideas, create better understanding and make better decisions. Typically, our clients choose one of the starting points below to start working with us.
Off-sites and strategic dialogues
Design your strategy
We partner with teams to define their purpose, envision a new future and create their strategy. Design a desirable future in a way that empowers your team!
More Details
More creativity and engagement
Accelerate Innovation
Innovation requires imagination. Turn your innovation strategy into a success story. Create a shared vision in order to get the entire organisation on board!
More Details
Hear it, believe it, live it
Activate Change
Make change actionable by translating an abstract strategy into understandable actions. Engage your organisation with workshops and carefully designed visual tools!
More Details
What to expect working with us
1.
Visual Thinking
Our visual way of working provides a powerful experience to get teams on the same page. The marker is our primary tool in facilitating meaningful and constructive conversations with teams.
2.
Co-creation
Your team is the owner, not the receiver of the strategy. By co-creating the new way forward as a partner of your organization we empower and enable the people that need to turn it into a reality.
3.
Design-thinking methodology
We're a design-driven consultancy. It means we apply design processes on strategic topics and have humans in mind when designing a new concept. 
4.
Future Focused
Driven by a vision and informed by facts. We take the long view to envision where you want to take your organization — imagining what's possible, then helping you build up to it in a realistic way.
5.
Sustainable development
We work with teams who – just like us – have the Sustainable Development Goals (SDG's) in mind. We look for longterm partnerships. Drawing a better world together!
Depending on your needs and requirements we offer projects varying from a 2-day sprint to change programs that last several months. Contact us to learn more or view our cases.